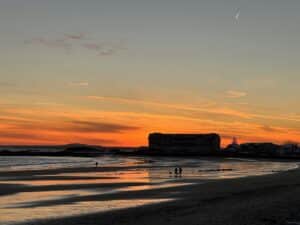 We're so lucky to have the beach literally steps outside our door, perfect for a leisurely walk on the paved sidewalk or a vigorous run on the sand. It's perfect in all seasons, any time of day! 
If you're looking for a nice walk, we'll always choose a beach walk – all day every day! But if you're looking for a change in scenery, we have several walks in the woods, meanders by the marsh, or runs by the river and streams of Kennebunk and Kennebunkport.
Read on for our favorite walks in order of preference. And then, below, we'll list the trail links to maps from the Kennebunk Land Trust, the Kennebunkport Conservation Trust and the Arundel Conservation Trust, which will lead you to some amazing options.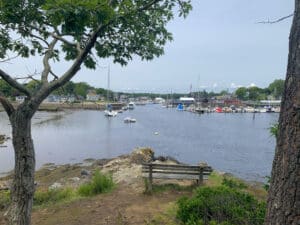 Franciscan Monastery, Kennebunk: Less than half a mile from the Seaside Inn is the Franciscan Monastery, heading inland up Beach Avenue. You'll enter through the stone gate of the serene Franciscan Monastery, veering right, and you'll see the sweeping lawns and simple gardens of this English-style park, and you can't miss the prominent Our Lady of Lourdes grotto among other statues and shrines. On foot, you can follow about a mile of paved paths into the woods to see Kennebunkport across the Kennebunk River, as well as more statues. Our favorite spot is the bench perched on the point, overlooking the river and all of the boat traffic! The park is open between sunrise and sunset, everybody is welcome to visit the chapel, to walk the expansive grounds, or to sit in quiet contemplation or prayer on one of the many benches on the grounds. Bike riding is not allowed on the Monastery grounds.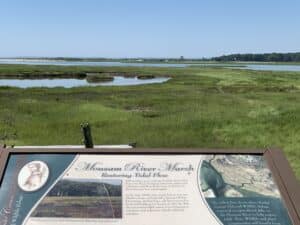 Bridle Path, Kennebunk: Right around the corner from us. On Route 9 just before the Mousam River, this favorite walk gives you the most scenic bang for your walking buck. You could almost walk there from here (there is a cut-through on Beach Avenue if you look closely), but if you drive, you can park in a tiny off-road lot or along busy Route 9. You can walk either direction, but we love the walk almost through the marsh for the spectacular views. It runs about a mile, though it gets overgrown and at the end toward the Beach Avenue end. More often than not, we turn around after we pass the marsh, and head in the opposite direction, past Route 9, and continue inland. The Bridle Path this way is a flat dirt path about two miles long that parallels the Mousam River and the marshes in Kennebunk, excellent bike riding for beginners and families. You can also park at Sea Road School and access the trail there.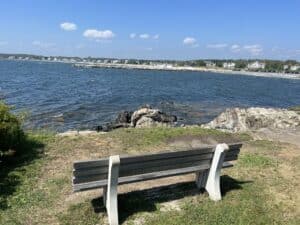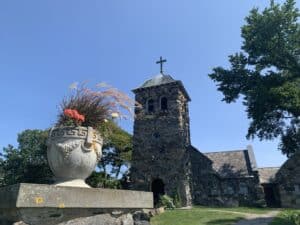 Parsons Way: Across the river in Kennebunkport there is a section of Ocean Avenue that is especially picturesque (offering great views of the Seaside Inn!) and popular for walking, running or biking. We usually park at Colony Beach (or St. Ann's Church a half-mile down Ocean Avenue) and walk along the busy road; you'll see a small sign for Parson's Way, but really it's just a section of the road . There are some great swaths of grass with benches and views for miles on a clear day. The road is slightly elevated above the water, so sunsets are especially great from this vantage! Follow Ocean Ave down farther to St. Ann's Church, which is also worth checking out because of its spectacular views of the Atlantic and boats in season. From there we walk on the sidewalk around the curving Ocean Avenue to Walkers Point, home of the Bush family, about a half-mile away. Be sure to stop by Blowing Cave just before high tide for spectacular crashing waves, as well as Anchor to Windward statue, a black anchor tribute to the late President George Bush.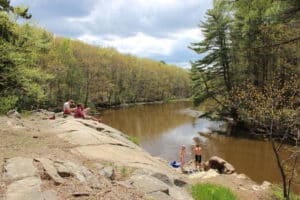 Picnic Rocks at Butler Preserve: If you want a short but scenic hike with a reward at the end (with a little bit of local history to the area) then you'll like this short hike (.75 mile there and back) that leads to a large boulder known as Picnic Rock with views of the Kennebunk River. In earlier times, Picnic Rock was a well-known spot where boaters traveling the river would stop and picnic. You'll find the trailhead marked by the Kennebunk Land Trust sign on Old Port Road near the corner of Rivers Edge Drive; parking is limited.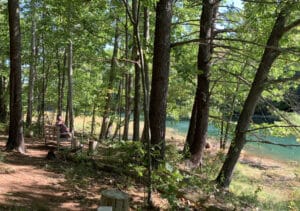 Welch Woods, Arundel: This is another quick, easy half-mile loop with a scenic spot overlooking the Kennebunk River as a reward at the end. The trail crosses a small brook and leads to a clearing by the shore of the Kennebunk River, where our local Boy Scouts have built a few benches where you can enjoy the serenity of the tidal marsh, and the gentle flow of the river. Pack a picnic lunch or a snack and relax. This path is best suited for walking. There is limited off-road parking behind the sign for Welch Woods, just east of 227 River Road, Arundel.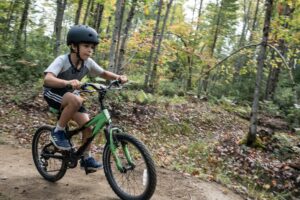 Roll Um Easy / Mountain Bike Flow Trail: The first of its kind in Southern Maine, this new flow trail for bikers is a really great addition to our local trails scene! The trail is located adjacent to the Arundel Community Trails behind the new municipal building on Limerick Road. It offers a quick loop for bikers, as well as a just-completed longer trail leading to the Eastern Trail (see description above), using the natural landscape to create an organic 'flowing' trail with features like banked turns or berms, smooth rolling bumps, and other agility-type features that aid to keep momentum on the trail. The trail's design allows for a wide range of skill levels, from young kids to expert enthusiasts, providing more opportunities for riders of all abilities to enjoy mountain biking.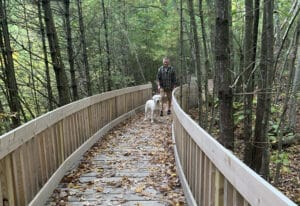 Hope Woods: Right in the middle of downtown Kennebunk is this new handicapped-accessible and wheel-friendly groomed path behind Hope Cemetery, near the junction of Summer Street and Main Street. Enjoy about 2 miles of well-marked trails through open and wooded areas and alongside Scotchman's Brook. Hope Woods is well known for its many bird species. Access the trails through Hope Cemetery, using Barnard Lane; parking is limited.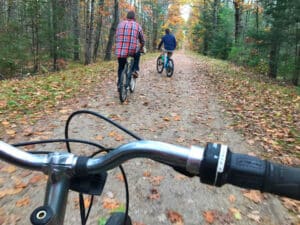 Eastern Trail: The Eastern Trail, a 65-mile section of the East Coast Greenway stretching from Kittery to South Portland, has two local entrances: Kennebunk Elementary School off Alewive Road, and Limerick Road in Arundel. The trail is perfect for walking and cycling as well as snowshoeing and cross-country skiing. The trail is flat and approximately 10 feet wide.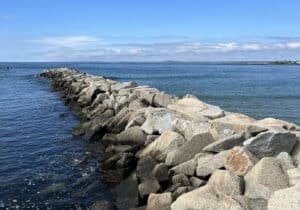 Kennebunk Beach/Colony Beach jetties: If you're the adventurous type, and absolutely steady on your feet and able to scramble across granite boulders, the jetties on either side of the Kennebunk River offer a unique perspective of both land and sea … from land! You can get there from here, just head left to the end of Gooch's Beach and climb on up! Across the river, you can park at Colony Beach and walk the jetty popular with fishermen and visitors.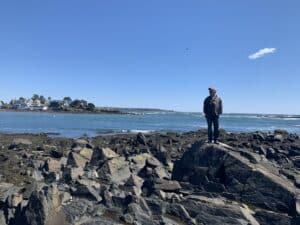 Strawberry Island: Along the lines of adventurous excursions, Strawberry Island around the bend from the Seaside Inn, in the KBIA cove between Lord's Point and Great Hill Road, is an outcropping of rocks accessible at low tide. It used to house a farmhouse and fields in the 1950s, and now it is simply a stopping ground for birds and the occasional kayakers or explorers. You can access the "island" via KBIA property on Great Hill Road, next to the two parking spots.
LOCAL LAND TRUSTS
Kennebunk Land Trust: The Kennebunk Land Trust offers scenic spots for walking, hiking and riding. As one of southern Maine's oldest working land trusts, the Trust has preserved over 3,400 acres of forest, fields and waterways, including 1,600 acres of the Kennebunk Plains. Of these preserved lands, more than 300 acres are conservation easements managed for private landowners. VIEW TRAIL MAP HERE
Kennebunkport Conservation Trust: Trails vary in length, width, topography and use. Some are conducive to bird watching and viewing wildlife, others for hiking, biking, snowshoeing, and cross-country skiing. VIEW TRAIL MAP HERE
Arundel Conservation Trust: This new nonprofit has been adding property over the last three years, first Welch Woods and most recently the new Roll Um Easy Flow Trail for mountain bikers, adjacent to the new Arundel Community Trails behind the Municipal Building on Limerick Road in Arundel. Of note, the Arundel Community Trails link to the larger Eastern Trail for really ambitious runs or rides! VIEW TRAIL MAP HERE
ROAD BIKING 
Goose Rocks Beach, Kennebunkport (11 miles): From the Seaside Inn, via Beach Avenue head into Dock Square, take North Street to Arundel Road. Follow Arundel Road past the horse farm and take a right on to Goose Rocks Road. Ride Goose Rocks Road to the end and go straight across Route 9. At the end of Dyke Road you will find the pristine Goose Rocks Beach. This ideal family destination usually has very limited parking, but you won't have that problem with a bike. This also happens to be the ride with the least amount of traffic. When it's time to return, follow the same roads back to town.
Kennebunk Beach, Kennebunk (7 miles): From the Seaside Inn, take a left out of our driveway and follow the ocean for the next 2 miles. Where the road heads away from the ocean you will see Great Hill Road on the left. This dead-end road borders the Mousam River. After you turn around, take a left onto Boothby Road. This connects to Route 9 and will bring you back into the Port. This ride is good for adults and parents with children over 9 years old.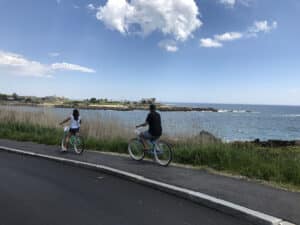 Ocean Avenue and Cape Porpoise, Kennebunkport (8 miles): From the Seaside Inn, via Beach Avenue head into Dock Square; head out of Dock Square on Ocean Avenue with the water on your right. You will be riding parallel to the Kennebunk River. Ocean Avenue is heavily traveled so families with young children may want to take another route. Bear right at the Wildes District Fire Station and stay on Wildes District Road all the way into Cape Porpoise. After sightseeing in Cape Porpoise, backtrack your route into town.