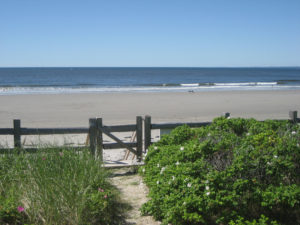 The Seaside Inn is located at the head of the Kennebunk River directly on Kennebunk Beach. Owned and operated by the same family for 9 generations, on your first visit you will know you have discovered a truly special place. View Inn history
The Seaside Inn is a 22 unit Oceanfront Inn, located directly on a beautiful stretch sand beach. It is the ONLY Inn located directly on Kennebunk Beach. This fabulous getaway or vacation retreat is open year round. An extended Continental Breakfast in the 1850 Boathouse Room is included for all guests of the Inn. The Inn is smoke free.
All guests enjoy our ocean view hot tub and free WiFi Access. Guests of the Seaside receive free access to the local Fitness Center featuring all of the latest fitness equipment.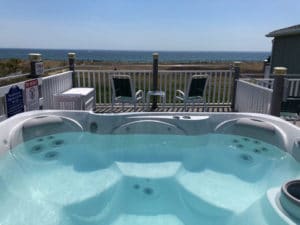 In recent years we expanded the 2nd floor deck providing spectacular ocean views for all Inn guests to enjoy. Plus added new large hot tub on the deck with stunning oceanviews. We also added a new outdoor lounge area with lounge chairs with new misting machines for cooling off! Plus we now have six bicycles for guests to use.
Want to get married in our spectacular oceanfront location? Our Innkeeper Ken Mason is a Notary, which in  Maine means he is a Justice of the Peace! Ken is happy to perform small civil services (up to about 20 ppl) for Inn guests and your friends can stay with us too!
"You can't find a better place to hang your hat in Kennebunk, Maine, than The Seaside Inn." – New Haven Register

"Seaside Inn – It doesn't get more historical than this family friendly hotel, with its single turret and back-door access to Kennebunk Beach. It's very likely the oldest hotel in America: an inn has occupied this site since at least 1660, and the current owners represent the ninth generation of innkeepers. Breezy, seaside décor and private porches and balconies make the most of the terrific beachside location." – Downeast Magazine