It's (finally) spring in Kennebunk!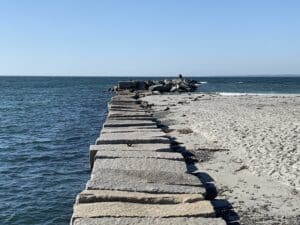 Love that beach air! We love going for a long walk on Gooch's Beach to really soak up the spring air.
Specifically, we love walking the jetty. Check the tide chart here, check out our beach camera. and if you're here at the Seaside, pop your head out of the window to check the
Catch a sunset over Kennebunk Beach!
Recover from the winter months with some retail therapy! Many shops remain open all year, but there's also the seasonal select that re-open this time of year, so it feels a little celebratory when they do!
We have a healthy crop of incredible plant and flower shops to browse! Snug Harbor Farm, Wallingford Farm, Estabrooks, Frinklepod Farm, plus a handful of Maine roadside stands suck as Spy Haven Farm. Bring home some living memories of your Maine stay!
Live music is back, another sound of spring around here. Specifically Old Vines Wine Bar, The Pilot House, Ryan's Corner House, among others. Tourist & Town maintains a weekly listing here.
We're all busy picking up after winter and looking forward to spring color! Enjoy those daffodils, tulips and other planted pots around town — a colorful sight for winter-weary eyes!